Having visited  La Chaux-de-Fonds on several day trips over the last couple of years, we wanted to spend a little more time in this interesting city. Founded in 1656, it developed into an important center of the watch making industry. It was partially destroyed by a fire in 1794 and then rebuilt following a grid street plan, reflecting watchmakers' need of rational organization. Karl Marx described it as a "huge factory-town" in Das Kapital. Today a Unesco World Heritage Site together with Le Locle, it is also renowned for its Art Nouveau buildings. Among the famous people born in La Chaux-de-Fonds, let's just name Louis Chevrolet,  born in 1878, who would become the co-founder of the Chevrolet Motor Car Company in 1911 and Charles-Édouard Jeanneret, also known as Le Corbusier, born in 1887.
As a family, we wanted to stay in an apartment and found a beautifully restored one through Ferien im Baudenkmal. Luckily the flat wasn't occupied before us so we could arrive early on Saturday to start our holiday!
Saturday
Domaine des Tourelles
Domaine des Tourelles was built in 1897 and has hardly been transformed over the past century. For many years, this monument remained empty, until it was bought, by the current owners who renovated it with great attention to detail. It is a beautiful representation of Historicist architecture: the exterior is decorated with small classical sculptures, the wood panels in the living and dining rooms in the Henri II style are a reinterpretation of the baroque and the ceiling frescoes are inspired by Italian decorations.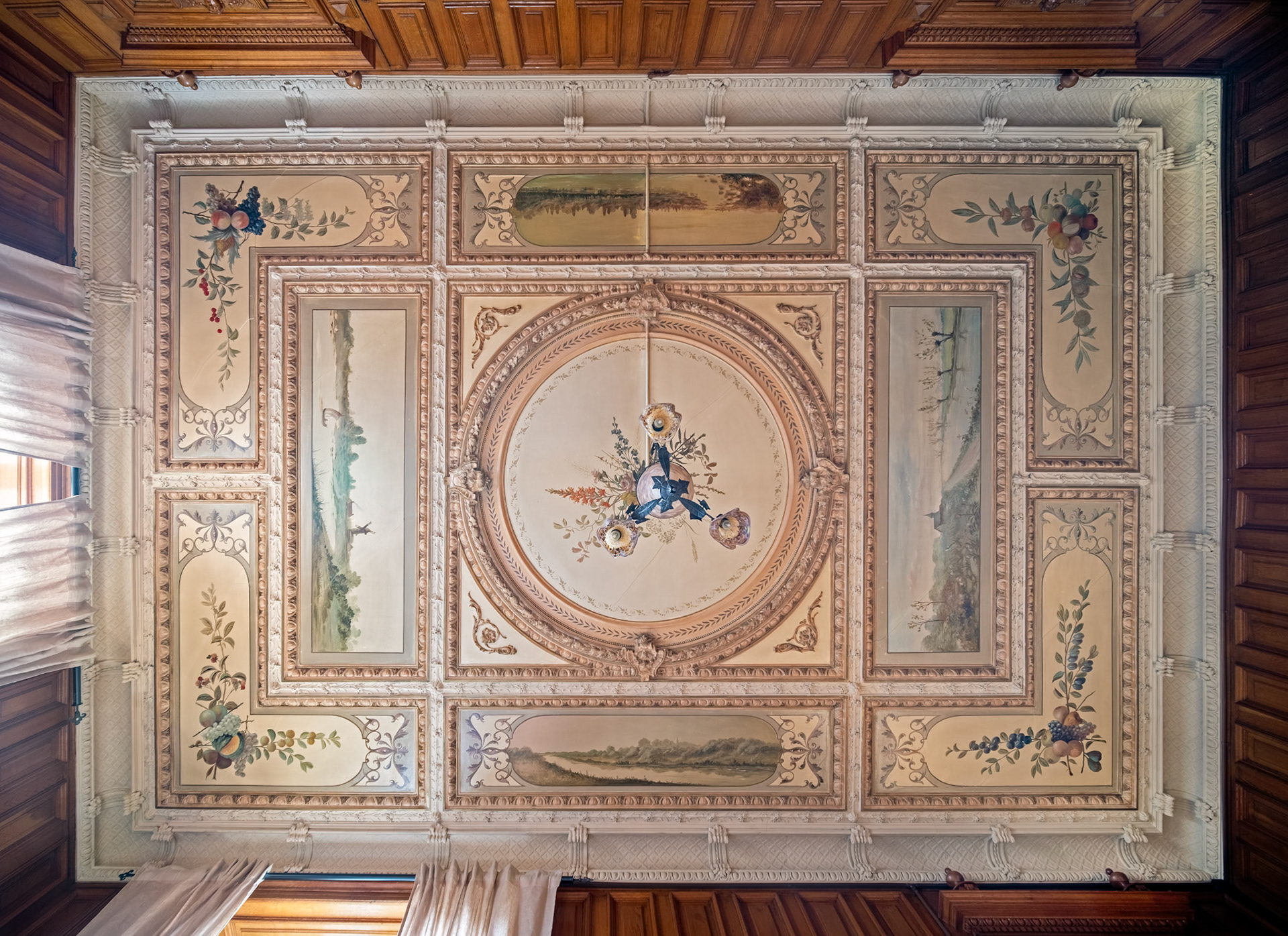 And last but not least there is the vibrant kitchen with its colourful windows overlooking La Chaux-de-Fonds.

Zoo du Bois du Petit-Château
The  Zoo de La Chaux-de-Fonds / Bois du Petit-Château is located a mere 5 minute walk from Domaine des Tourelles. It presents mostly mammals and birds from Europe who are on the mend or cannot be released back in nature. It also doubles as a public park and the entrance is free. We had a lot of fun watching the ibex play on their mountain!
Evening
We spent the evening looking through the collection of guides and flyers available in the flat in order to plan a walk through the city for the next day.
Sunday
After a great night sleep in such a tranquil area, and in amazing beds, we were ready to explore!
Villa Schwob
Villa Schwob, also known as  Villa Turque, is the most well-known of Le Corbusier's buildings in La Chaux-de-Fonds. It was commissioned in 1912 by watchmaker Anatole Schwob and completed in 1916.
Temple Saint-Jean
Initially, the project for this new church  Temple Saint-Jean was supposed to go to Le Corbusier, but since he was at the time busy with Chandigarh in India, he refused and the project went to another architect from La Chaux-de-Fonds, André Gaillard. The church, with its spiral shape, has a very expressive, plastic architectural style. Building it became possible through the collaboration with Daniel Grataloup, who owned a patent on sprayed concrete technology. It was completed in 1972.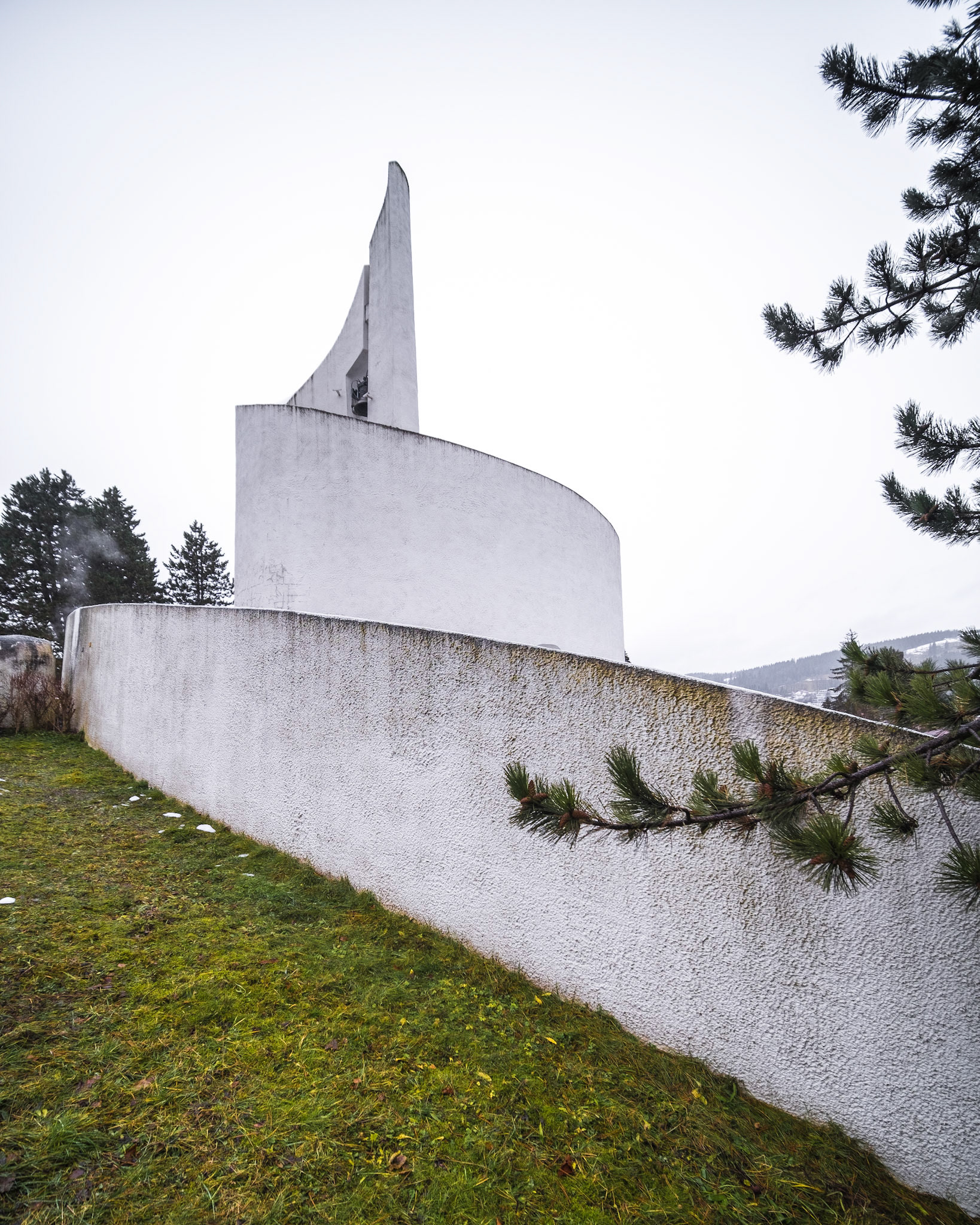 Anciens Abattoirs
The first public slaughterhouses in La Chaux-de-Fonds opened in 1841. At the turn of the century, 60 years after their construction, the city's population had quadrupled and slaughterings had increased seven-fold. The decision was therefore taken to build new slaughterhouses and Gustav Albert Uhlmann was chosen as their architect. In 1999, they stopped their activity, but recently a contemporary art center started to use some of the space.
Flatiron building and Japanese garden
For travelling to different continents, how about these two locations: doesn't the building on rue des Regionaux 11 look like New York's famous flatiron building ? And in the Passage des Lessivières, there's a Japanese garden !
Ancien Manège
In 1855, the Société du Manège united around a hundred people for the construction of the necessary infrastructure to practice horse riding. The Manège was inaugurated in 1857. It doesn't seem to have been viable financially and was sold in 1864 and then transformed into an apartment complex.
Parc de l'Ouest
From here let's head back to Domaine des Tourelles with a stop at the  Parc de l'Ouest with the Louis Chevrolet sculpture by Christian Gonzenbach, created on the occasion of the 100th anniversary of the Chevrolet company.
Monday
After a short visit this summer in Le Locle, we knew we wanted to go back to this little city to further our tour!
Hôtel de Ville
Designed in 1917 by the Vevey architect Charles Gunthert, the  Hôtel de Ville of Le Locle was inaugurated in 1918. It is a Gesamtkunstwerk, combining harmoniously the different styles of neo-renaissance, Heimatstil and Art Nouveau. The fresco above the main entrance is by Ernest Biéler.
Exomusée
Founded in 2011, Luxor Factory is a non-profit association which considers artistic creation as a universal vector of encounters and innovations. Since 2018, it has focused on urban art, as part of its open-air museum project in Le Locle, called "exomusée". The exact location of the artworks can be downloaded here. Depending on how long you spend at each location, it takes between 1 and 2 hours to do the full tour. Discovering these works of art as we went along sure was a pleasure!
Synagogue of La Chaux-de-Fonds
The  Synagogue de La Chaux-de-Fonds was built between 1894 and 1896 to plans by architect Richard Kuder. Its cupola is 32m high. Now more rarely used by the community, it is listed in the Swiss Inventory of Cultural Property of National and Regional Significance. 
Crématoire
Designed by Robert Belli and Henri Robert,  Le Crématoire of La Chaux-de-Fonds was inaugurated in 1909. All the decorative works were carried out by the Cours supérieur d'art et décoration, directed by Charles L'Eplattenier. It is a singular place where art and spirituality come together.
Tuesday
Theaters and concert halls are always nice places to discover, not only for the plays and concerts they hold, but also for their general style. 
L'Heure bleue
Théâtre De L'heure Bleue is a neo-Baroque theatre in the Italian style that has preserved its original appearance. It was built in 1837 to plans by Peter Jakob Meinrad Felber. With about 500 seats it has a very intimate atmosphere. The ceiling is decorated with paintings of the nine muses and allegories, painted by Georges Och and Chenillon. Only one other Italian style theater exists in Switzerland… do you know where?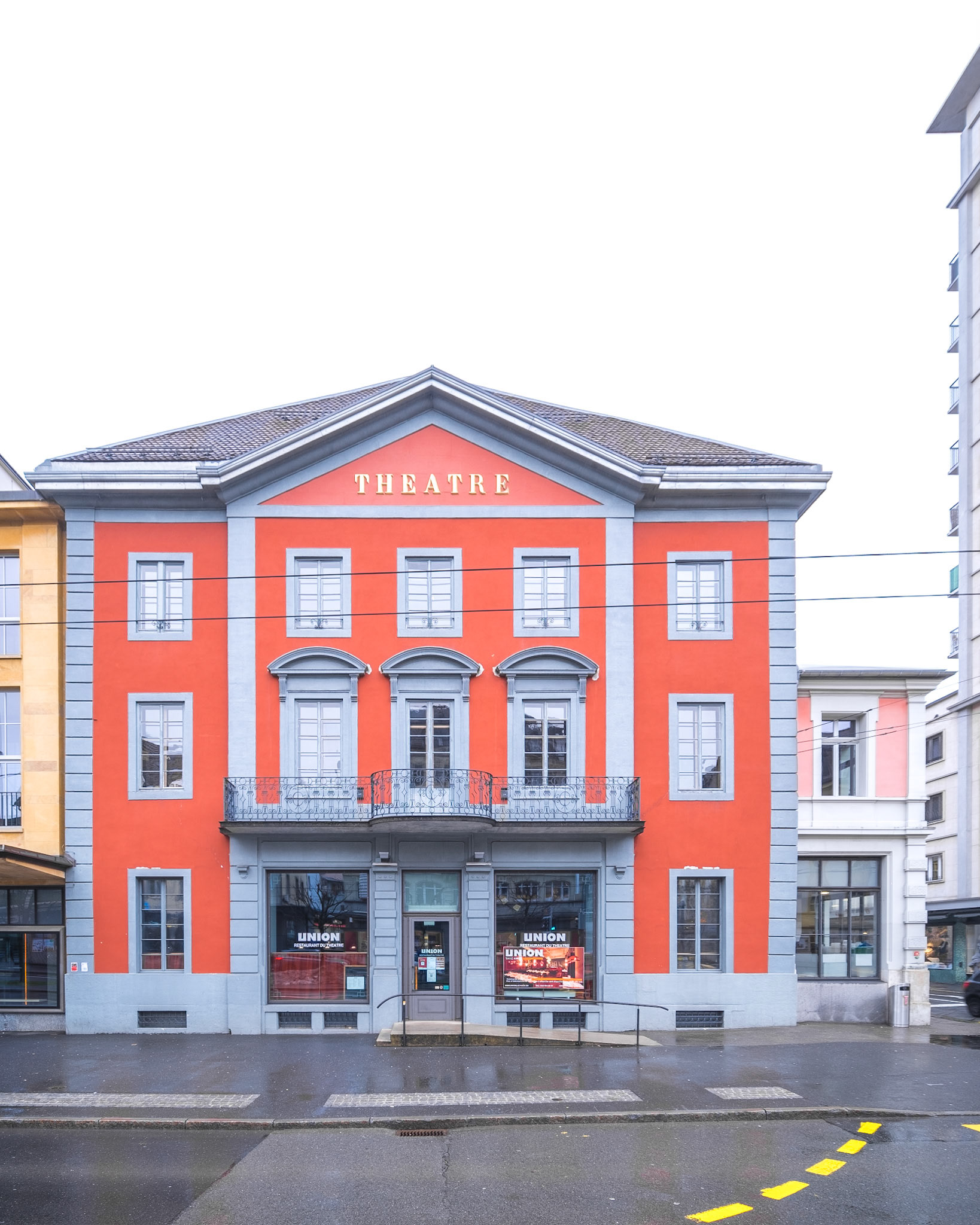 Salle de Musique
The  Salle De Musique was designed by architects René Chapallaz and Hans Bieri and built in 1951. It is renowned for its acoustics: more than 450 recordings for prestigious music labels have taken place here. To name just one, Keith Jarret recorded here in 1991 for the ECM label Dimitri Shostakovitch's 24 Préludes & Fugues op.87. And the Chilean pianist Claudio Arrau even said: "From the point of view of sound, the most beautiful piano in the world is in La Chaux-de-Fonds, in a delightful little concert hall. I made my best recordings there".
Additional tips
As 2020 unfolded, museums and other public accessed monuments were sometimes closed, sometimes open… Here are a few additional suggestions of great places to stop by when in the area - always check the individual websites for opening hours!
Tour Espacité
For an overview of the city from the 14th floor of the tower, it is a great start to your journey as this tower also holds the Tourist office!
Musée international d'horlogerie
Musée des beaux-arts du Locle
Musée d'horlogerie du Locle, Château des Monts
P.S. The second Italian style theater in Switzerland is in Bellinzona.