Zermatt in the Swiss canton of Valais is a small town with a population of about 6000 people. It is Switzerland's southernmost German speaking municipality and, at an altitude of 1620m above sea level, is located at the foot of Switzerlands highest mountains. While historically an agricultural community, it has become, since the first ascent of the  Matterhorn in 1865, a mountaineering and skiing destination that attracts over 35000 people every day during peak season!
Friday evening
On one of the hottest weekends ever in June, we decided to visit Zermatt once again. We arrived slightly after 8PM Friday evening at the train station of car-free Zermatt and headed straight to our hotel.
Hotel Carina
  Hotel Carina in Zermatt is a design hotel a short walk from the town center.
It was originally built as a boarding house in 1958 and has been acquired by a group of 3 mountaineering friends in 2017. Its transformation is the totally unexpected result of the storm Eleanor in January of 2018. Its strong winds and heavy snowfall had cut off the access to Zermatt and left many tourists stranded for several days. Among them, a group of 22 architects on a team-building seminar, colleagues of one of the owners, who offered to lodge them. They spent their time planning a complete renovation project using whenever possible local materials and carried out by local craftsmen. Two years later, in 2020, the new Hotel Carina was a reality and opened to the public ! The same year, it became Zermatt's only hotel with the double classification "Design & Lifestyle" and "Swiss Lodge" by HotellerieSuisse.
A short dramatic looking pathway leads to the reception area, built around an organically shaped staircase.
The lounge area is a perfect spot to relax and you can even play games inside the floor to ceiling bookcases.

Hotel Carina features different room categories ranging from shared dormitories to the penthouses on the 4th floor. The aptly named Penthouse Matterhorn has 3 bedrooms and features stunning views of the Matterhorn right from the bed !

What better way to wind down than to sit on our balcony and watch the sun set ? !
Saturday
5 Lakes Walk
After a great night's sleep, and a nutritious breakfast with lots of different breads, jams and fruits, we headed out to the  Sunnegga Blauherd Rothhorn Funnicular And Cable Car Station which got us an altitude of 2300 meters above sea level in a short four and a half minutes. From there, we took the gondolas to the Blauherd station to start the 9 km-long 5 Lakes trail.
The heart at the beginning of the trail perfectly aligns with the Matterhorn and seemed to be a very popular selfie spot !
And off we went on a very easy little hike down towards the first lake,  Stellisee. It is one of three lakes on this trail to feature a Matterhorn reflection !

A tour around the lake allowed us to see that if was filled with fish, which surprised us from time to time by jumping out to eat unexpectedly! At the end of the lake we found this bench with its amazing view.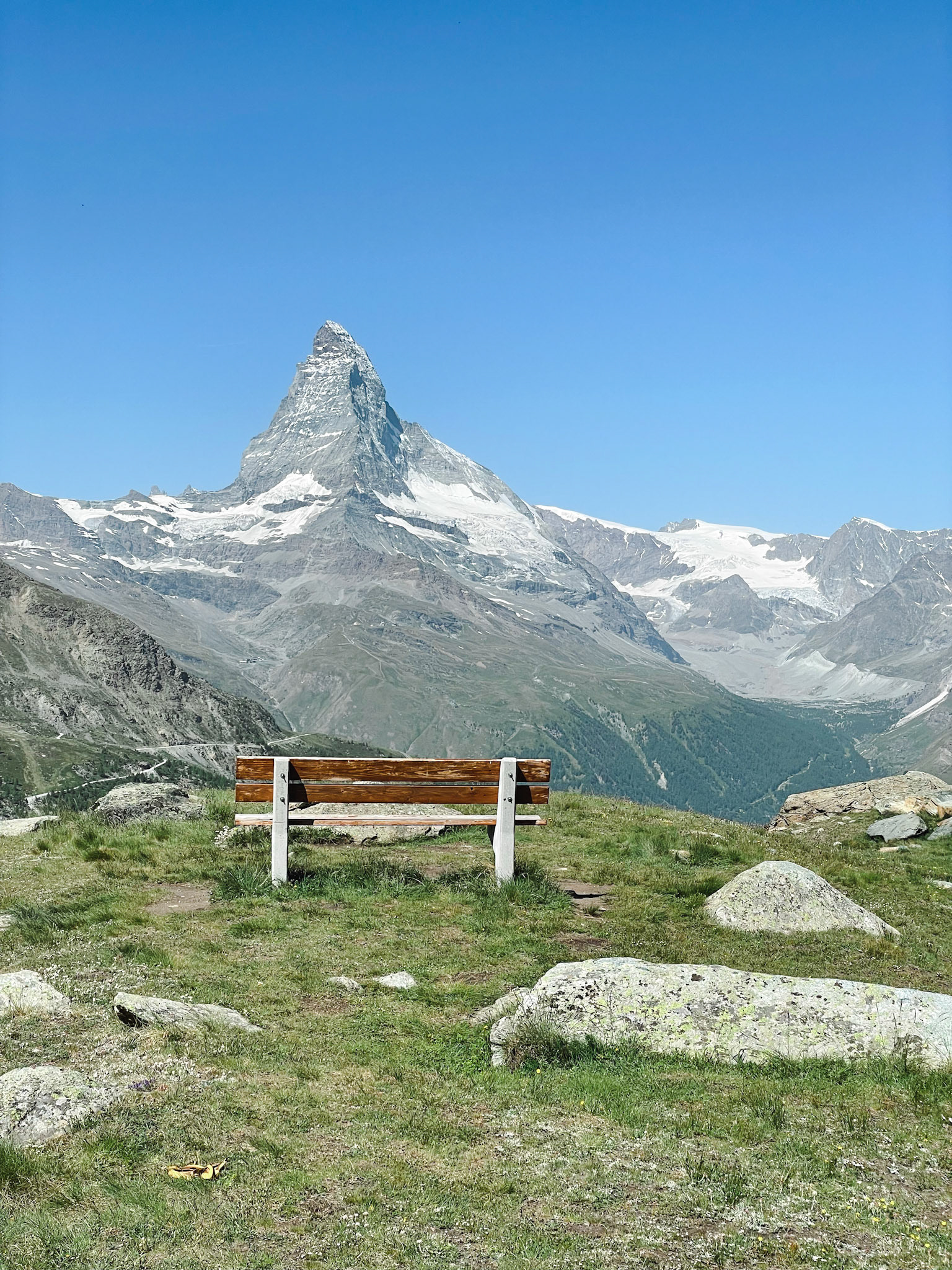 We kept going for about 30 minutes towards  Grindjisee. This lake had a totally different look being surrounded by larches and bog vegetation.
Another 30 min uphill walk later, we arrived at the oasis -  Grünsee bei Zermatt. A beautiful 150 meter long and almost 50 m wide clear lake that you cannot pass by without soaking your feet in! If you don't mind cool glacier water, you can also swim here ! Such a refreshing stop, especially in the very hot temperatures we were experiencing.
Actually, we had been expecting much lower temperatures at this altitude, and had already drunk most of the water we had brought with us. We were therefore very happy to see the  Mountain Lodge Ze Seewjinu close by where we stopped for great sparkling waters on the terrace !
From here, we descended for about 30 minutes before arriving as Moosjisee! No reflection here, but oh my the colours!
Then we were faced with a hard decision. Going slightly uphill 45 minutes back up to the 5th lake,  Leisee , and then the Sunnegga funicular... or 1h25 walk down to Zermatt in the forest shade…. We decided to go down as we had seen Leisee on a previous summer visit, and preferred the shade! This, of course, added a few kilometres to our hike with an additional approximate 500m descent… and after a total of 15 km we were back in downtown Zermatt where we treated ourselves to a nice ice cream break, a shower… and lots of water!
La table du Carina
The evening rolled in and we went down for dinner at Hotel Carina. Gaïa Bongiorno, head chef at Carina Zermatt is a member of the Swiss Slow Food Chefs' Alliance, a group set on promoting niche and exceptional products. Inspired by her Sicilian roots, Gaïa thinks and creates food for friends visiting - we immediately felt at home!
We were in awe of the menu and decided to try the tasting menu… and oh did we not regret it one bit(e)! The menu of the Carina changes daily - yes, daily - so we can only report on what we were wowed with:
Aubergine caponata "Alla Palermita"
Mozzarella di Bufala Campana and red Peppers "alla Scapece"
Grano Arso sourdough homemade Focaccia, black chickpeas hummus with pistachio
Spaghettone Mancini "Aglio, Olio e Peperoncino"
Roasted Chicken leg, baked potatoes and homemade apricot ketchup
And least but not last - Torta rotta with black Swiss chocolate and Neapoletan coffee and Basque Cheesecake and cherries!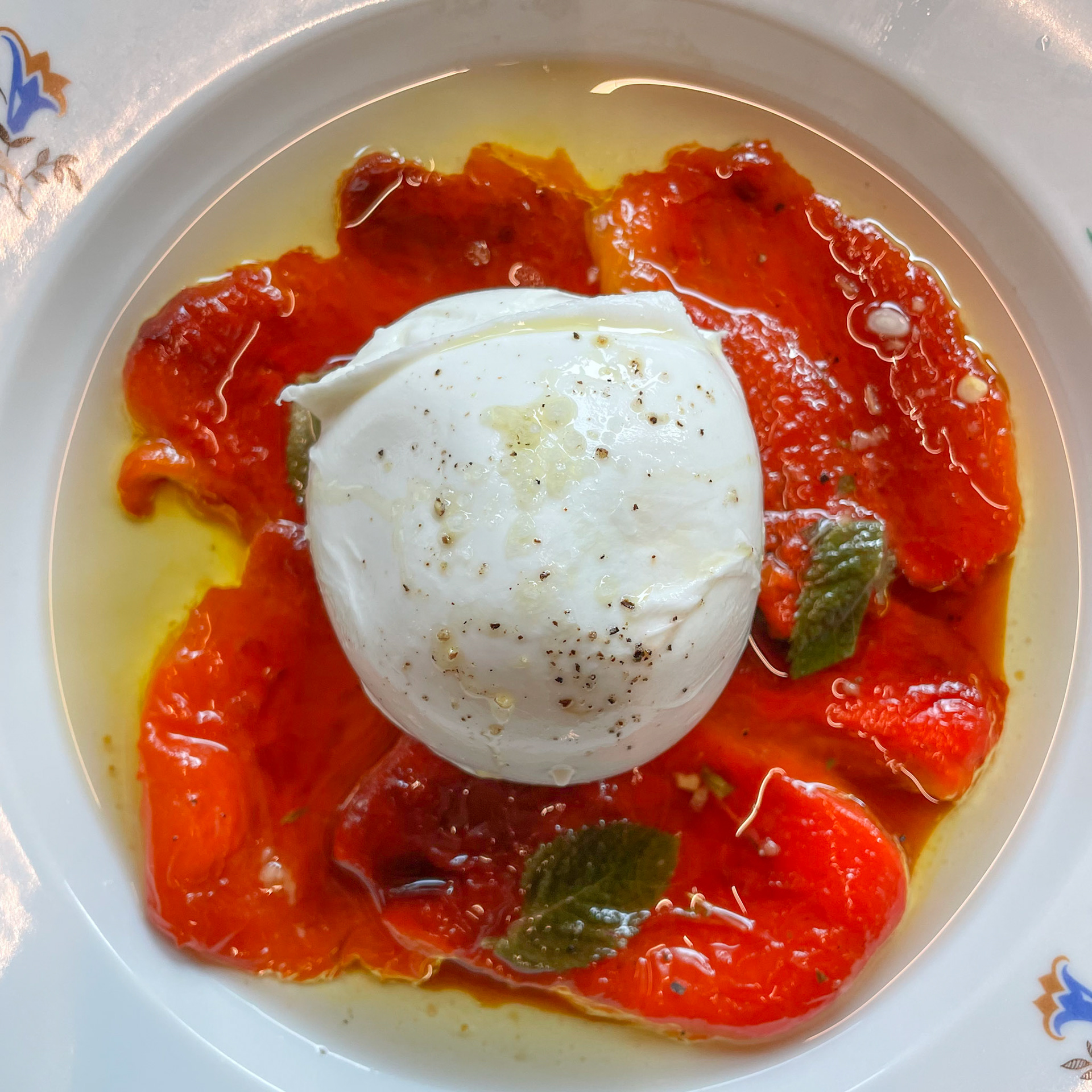 Sunday
Downtown Zermatt
Before leaving the next morning, we headed out to discover downtown Zermatt. Meeting the Matterhorn at every corner, the city is traversed by the main river of the valley: the Matter Vispa. In the center of town, there is quite a density of houses and commerce, which also gives it a lot of life.
May it be with Geraniums or even Edelweiss flowers, the windows all have a little something to bring even more nature into the city!

Modern hotels and houses sit alongside historical ones. The historical part of the village of Zermatt is called the Hinterdorf (rear village). There are still more than 30 traditional buildings constructed between the 16th and 18th century. They are mainly built from larch, a tree found in the surroundings and particularly resistant to pests due to its high resin content.

The English Church was inaugurated in 1870 and shows how many English guests visited Zermatt in the 19th century. The first ascent of the Matterhorn in 1865 actually was by British climber Edward Whymper. Only 3 of the 7 climbers that reached the summit on that occasion came back alive. The remains of Reverend Charles Hudson, who died on the descent, are now buried under the main altar.

Reminders of the mountaineering history are never far in Zermatt. Another particularly impressive example is the fountain dedicated to Ulrich Inderbinen, born in 1900 who, as a mountain guide, completed 370 ascents of the Matterhorn, the last one when he was 90 years old.
With all this history in mind, it was unfortunately already time to go home ! Rest assured, we'll be back as we know each visit has us discover another angle of this great village!
Additional suggestions
Gornergrat
  Gornergrat at 3100 meters above sea level is a rocky ridge overlooking the Gorner Glacier. It can easily be reached with the Gornergrat train which opened in 1898 and is still the highest open-air railway in Europe.
Charles Kuonen suspension bridge
The  Charles Kuonen Suspension Bridge is almost 500 meters long. Upon its inauguration in 2017 it was the world's longest suspension bridge built for pedestrians. Today it's the third longest. It can be reached from  Randa on a half day hike.